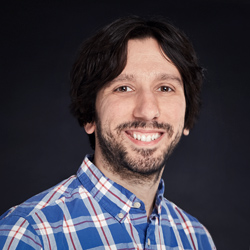 I'm the Director of Post-Production and Retouching at Splashlight in NYC. Previously, I was the U.S. Retouch Manager at Yoox Net-A-Porter, where I built and mentored an extremely large, talented, and successful in-house post-production team.
Before that, I was the senior retoucher at Martha Stewart Living Omnimedia. It was a great experience- I helped retouch and animate Martha's award-winning debut iPad app, Martha Stewart Living: Boundless Beauty, and retouched an award-winning magazine cover.
In 2013 and 2014, I volunteered my time and skills to careforsandy.org to repair and restore priceless family photos damaged by Hurricane Sandy.
I also loved restoring and retouching all 340 photos in the coffee table book Jersey Girls: The Fierce and the Fabulous.
In addition, I offer my photography services at robdicaterinophotography.com. I shoot weddings, portraits, and events in NJ, NY, CT, and Philly.
Whatever you need- photography, retouching, photo restoration, Photoshop lessons, or a successful leader for your studio team- I'm your guy! Email me at robdicaterinophotography@gmail.com to get our conversation started.
-Rob